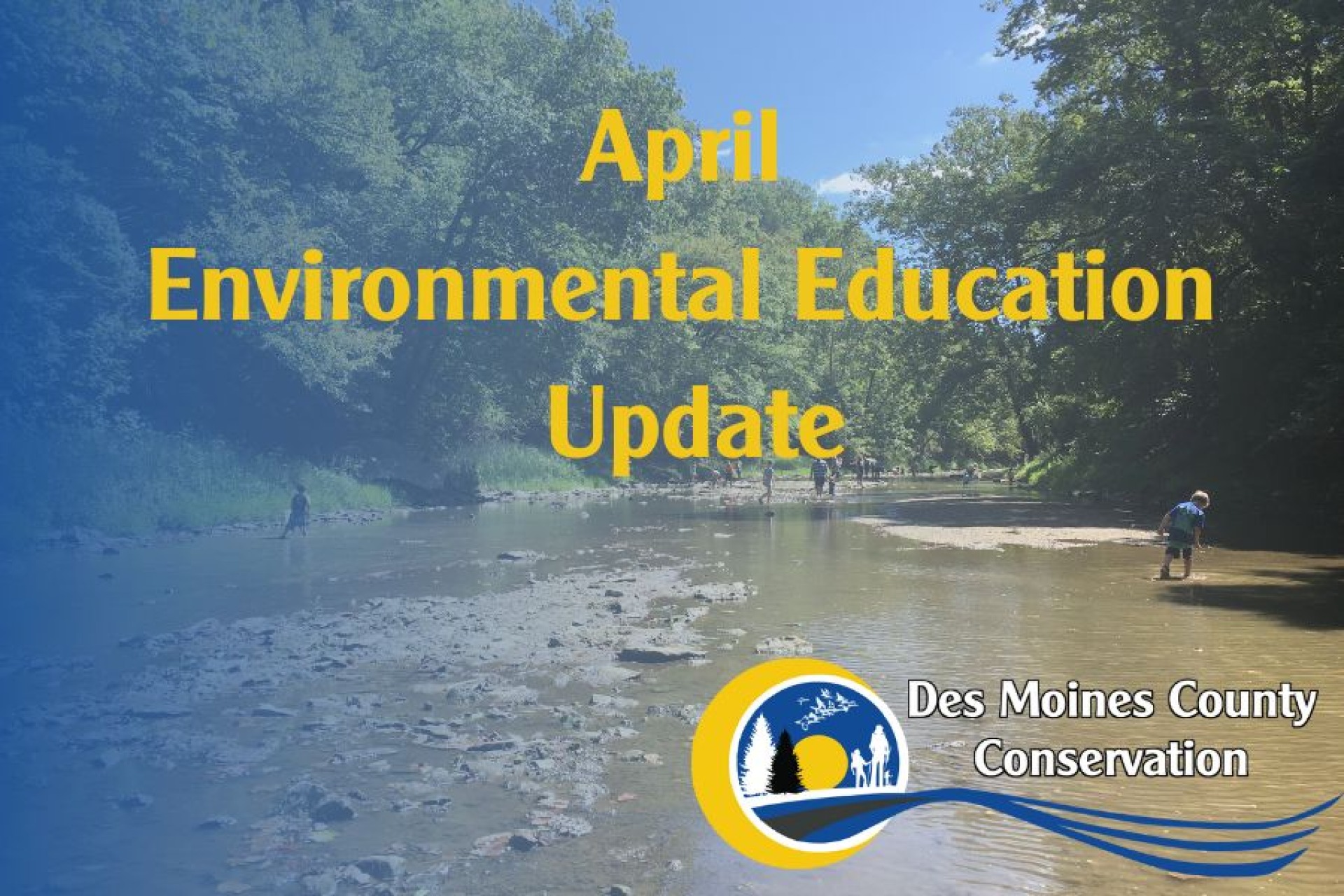 April Environmental Education Update
What is going on in the Environmental Education Department?
Marcus Nack, Environmental Education Manager
April
Field trip season has been in full swing! Starr's Cave has been full of ambitious students most days of the month. It was not uncommon to see 50 or 60 smiling faces wandering the timber or the creek. In addition to field trips, Starr's Cave Naturalist Jacklyn has been running classroom programs, and arranging program kit drop off and pickup.
The Hike A Park series has been running through this month as well. Hunt Woods, and Shimek have been the highlighted hikes this month and visitors have been enjoying their hikes. The Hike A Park series is continuing through May with only a few left. May will highlight Hickory Bend on May 11th, and finish with Chatfield park on the 18th. Keep your eyes peeled for some special events TBA for summer activities. There may be hikes, paddles, and bikes in your future!
Earth day Clean up occurred on April 22nd, and 96 participants gathered to clean up Burlington. This event was a great success, and really showed us that our community is truly special.
On the 25th summer camp registration opened. During the first hour, 85 campers were registered for camp! Camps still have openings and wait lists have been started for the camps that have already filled. Registration can be found here, and registrants must have a My county parks account to register.
The Outdoor Youth Jamboree is open for registration. Participants must register for this FREE event held on June 3rd from 9:00am-2:00pm. Activities will include fishing, BB gun range, Shotgun range, Archery, Boat rides, Canoeing, Library Story walk, and much more! Lunch is provided, and the day will be filled with fun activities. Register here today!
May
Field trip season continues! We have plenty of field trips visiting Des Moines County parks, so if you are looking to visit the nature center, please make an appointment at 319-753-5808. We are often unavailable due to the nature of fieldtrip season. Starr's Cave Nature Center will be open from noon to four Saturdays and Sundays.
Starr's Cave is currently hiring a part time AmeriCorps member. This position is for someone that loves the outdoors, has the ability to work with children, and has clear and concise communication skills. We are looking to fill this position by late May. Follow this link to apply!
Volunteers needed! Starr's Cave Nature Center needs volunteers to open the building, turn the exhibits on, and talk to visitors. We are looking for volunteers to help with the nature center on Saturdays and Sundays from noon to four. All volunteers will be background checked.
In addition to the nature center, we are looking for volunteers to help with the Outdoor Youth Jamboree, and to help run camps. Typically, we accept high school volunteers to help with summer camps, and the volunteer time can be used towards silver chord hours. For more information, please call 319-753-5808 or email Marcus at nackm@dmcounty.com.
published Friday, April 28, 2023
More Blogs