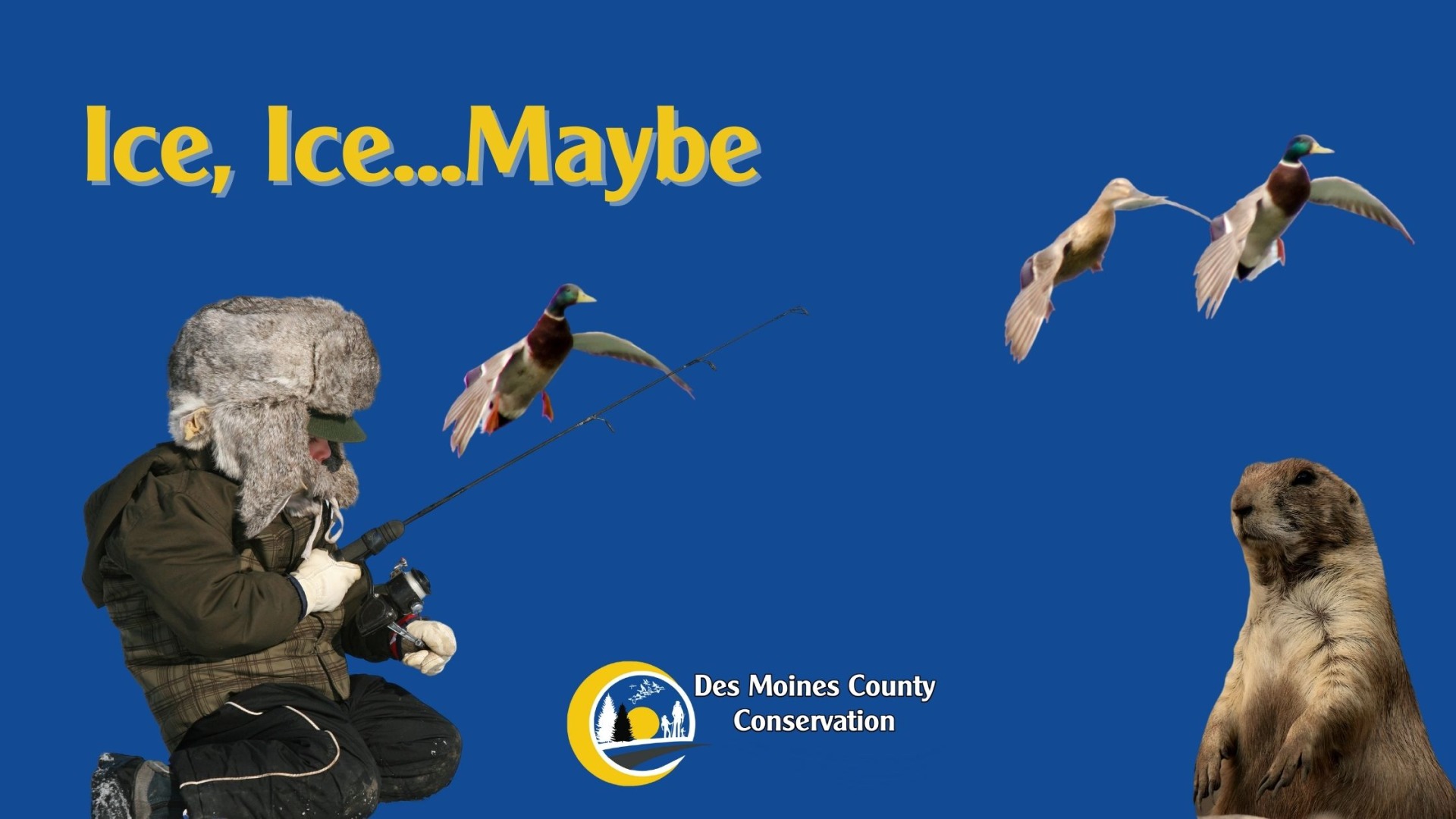 Ice, Ice, Maybe
A marmot told us winter is going to hang on a while. But Mother Nature can't decide which side of the freezing point she wants to stay. No worries, we have options...
Chris Lee, Executive Director
It's February and normally we would be talking about ice fishing, but Mother Nature is fickle and just can't commit to which side of the freezing line she wants to be. Then again, a groundhog told us earlier this month that we had six weeks of winter left to endure so in the interest of not questioning a marmot's meteorological fortitude, let's assume that we'll see decent ice yet this year.
Which begs the question, what is decent ice, anyway? Ice worth walking on will be fairly clear, solid, and at least three inches thick. Thicker if you're hauling gear. And remember, ice thickness can vary from one spot to another, so check it regularly.
Ice related recreation can include skating, skiing, and of course, fishing. Around Burlington, perennial favorite ice fishing spots include Big Hollow Recreation Area near Sperry which not only offers the big lake, but several small ponds throughout the park as well. The lake has become pretty well known for its big crappie so when the bite is on, expect a crowd. The ponds can deliver some crappie too but are better for bluegill.
Other ice fishing spots around town you might not think of include Walton and West Lakes out by the recycling center, the pond at Luckenbill Woods near Mediapolis, and the one at Leopold Recreation Area at the end of Mill Dam Road not far from the CNH plant. Both of those last two ponds are stocked with bluegill, crappie, bass, and catfish. There are also countless private ponds throughout the county if you're willing to ask permission. Does anybody do that anymore?
But as mentioned above, Mother Nature is fickle, and our days of suitable ice may already be behind us. In which case, it's time to turn eyes to the skies to watch for the spring waterfowl migration.
Hunters know well the fall migration, or what seems to be a lack thereof in some seasons. But I've always considered the spring migration to be much more spectacular from a numbers perspective. Depending how fast the spring thaw happens, waterfowl can at times really stack up in our area and groups of ducks and geese numbering well into the hundreds can be seen up and down the river. In the case of snow geese, add a zero or two.
But the chance to witness one of nature's greatest mass movements of wildlife is short-lived. It may last as little as a few days if areas to our north thaw simultaneously with us. But in years where we're the northern edge of the thaw, birds will stack up here as they wait for more northerly waters to open up. Those are the years I like.
Keep an eye to the sky and when you see large groups of waterfowl moving around – you don't have to know what they are specifically – you'll know it's time. The best places to watch large groups of these migrators is at the local boat ramps on the Mississippi River. I like the ones farthest from town, Sullivan Slough to the south and the 4th Pumping Station way up Hwy 99 just shy of Oakville.
That, or head up to the Lake Odessa area in Louisa County. Did you know that part of Lake Odessa is in a National Wildlife Refuge? It's called Port Louisa and they have a visitor center and a Facebook page currently full of fun up-close videos of ducks doing what ducks do. But from a get-out-there-in-it perspective, that part of Lake Odessa is restricted access. Hence the "refuge" name.
But half of Odessa is a state wildlife management area managed by the DNR and therefore publicly accessible. You can get out in there and set up your camera for the most share-worthy pics mother nature can offer. For this, go early or late on a sunny day, dress warm and be patient. And please, don't go blundering in and scaring up all the birds. They're already worn out from their long flights and ought not be expending unnecessary energy reserves going into their nesting season.
Closer to home here, look to view waterfowl down at Blackhawk Bottoms, another Iowa DNR area on the south side of Burlington near the confluence of the Skunk and Mississippi Rivers.
Down in Lee County, look for migrating waterfowl at Heron Bend near the Lee County Conservation headquarters between Fort Madison and Montrose. The river is wide and flat through that area and holds more birds than the relatively narrow section in front of Burlington.
I don't put a lot of stock in a groundhog's predictive ability but I will keep the ice auger sharp and the binoculars handy. Because no matter how much winter is left, we have multiple good reasons to get outside and enjoy it.
published Friday, February 10, 2023
More Blogs