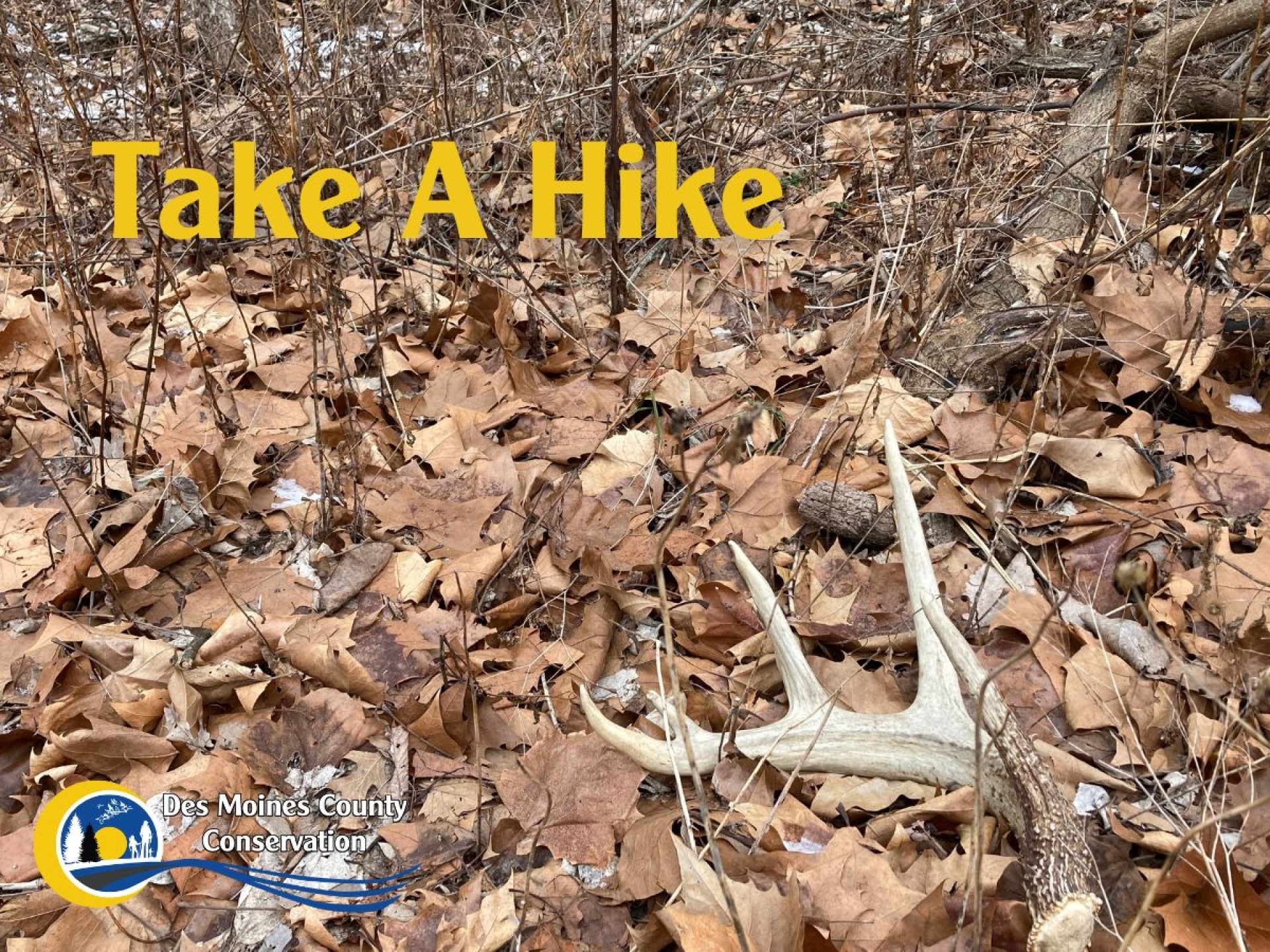 Take A Hike
Take A Hike this spring!
Marcus Nack, Environmental Education Manager
Des Moines County parks have been getting some serious use. Our trails are thawing out, and it has been great seeing active community members enjoying parks like Starr's Cave, and Big Hollow. This month we are kicking off the Hike A Park program with two hikes. Thursday March 16th at Starr's Cave is the first of this event series. This program is free and starts at 3:30. During this program, you can expect to see the start of spring as plants start sprouting from the ground. Starr's Cave is an awesome spot on the edge of town that shows a variety of animal, plant, bird, bug, and fish species. This park has a limestone chip trail with some rugged natural hiking side trails. The trails aren't limited to this event, so if you are looking to hike on your own and would like some guidance, stop on by the nature center for some suggestions.
The second Hike A Park is on the 30th of March at Luckenbill Woods. What better way to spend National "Take a Walk in the Park Day", then to walk through Luckenbill Woods. This park has some rich conservation history and makes for a great hike. In 2009, the property's north prairie became the site of Operation: Save the Quail, a cooperative bobwhite quail habitat restoration project between Julie Schnedler's 6th grade science class from Mediapolis and Des Moines County Conservation. The project won the Disney Planet Challenge's Grand Prize and was featured on Good Morning America and the Disney Channel. The entire class went to Disneyland where they were guests of honor for three days. Since then, Luckenbill Woods has become a regular site for numerous other class projects.
Perhaps you would rather explore a park at your own speed. This time of year is great for white tailed deer shed hunting. Deer are shedding their antlers this time of year, and they are hiding in a park near you. Deer lose their antlers in February and March so that they can use more of their energy surviving through spring. During the next few months deer will be focusing on eating whenever possible. Rodents like squirrels and mice are also looking for shed antlers. Rodents are using these antlers to chew for nutrients and to help keep their teeth healthy. If you find some antlers with nibbles on them, this is why.
Although antlers can fall off just about anywhere, popular places to look are: heavily traveled trails, places where dear leap like fences and creek crossings, southern side of a hill, and thick areas where deer bed. State preserves like Starr's Cave are off limits to shed hunting, but there are plenty of opportunities all around the state to shed hunt. Places to shed hunt in Des Moines County: Leopold Recreation area, Hunt woods, Geode, Big Hollow, and Hickory Bend. Many folks hike miles and miles to find these hidden gems through the spring, and sheds could be waiting for you right now. Whether you find antlers or not, a hike through your local park this spring is a nice way to spend the day.
published Tuesday, March 14, 2023
More Blogs