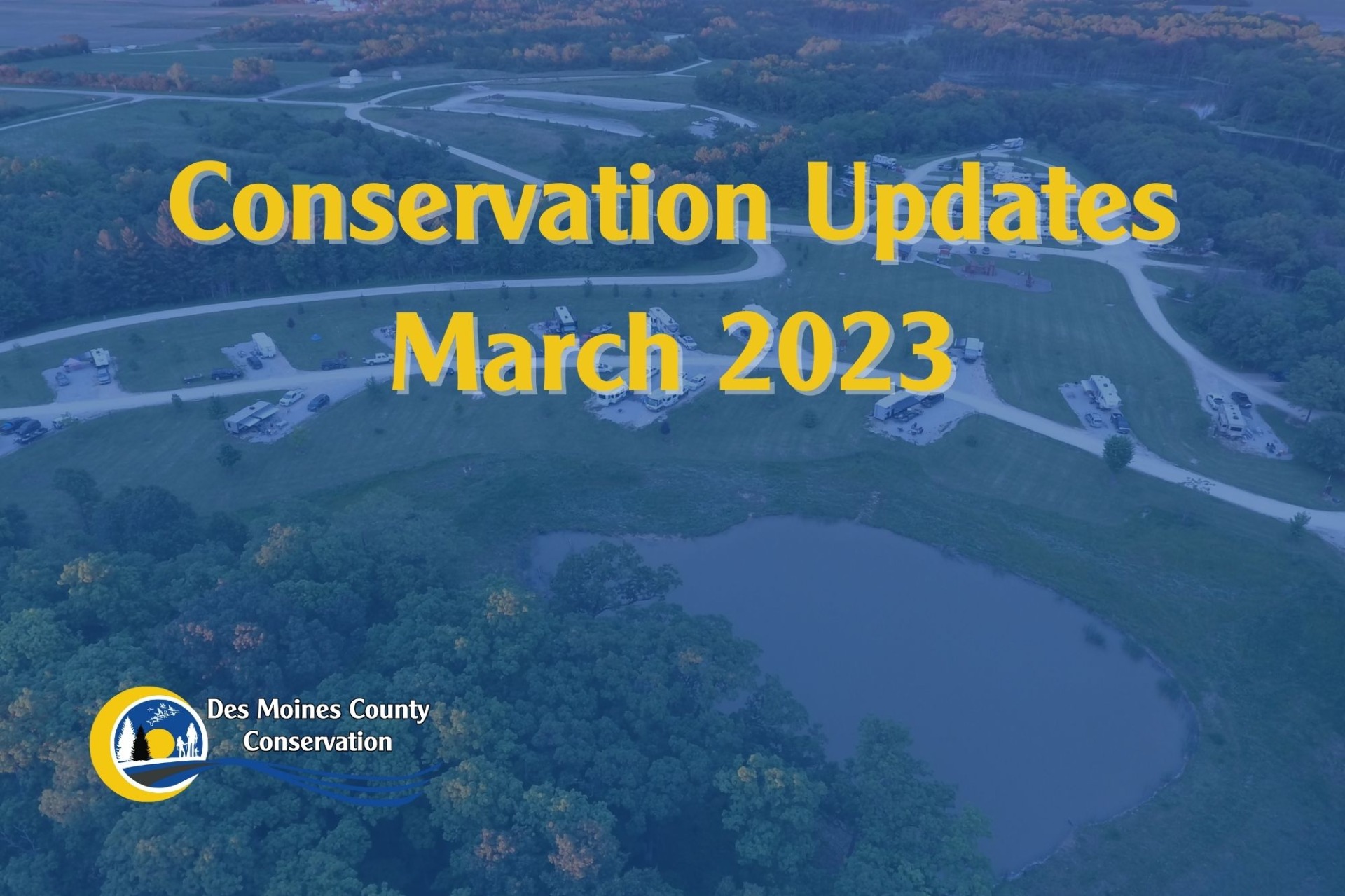 What's new at Conservation - March 2023
With spring arriving soon, here's some of what's happening at your local county parks.
Chris Lee, Executive Director
Tree clearing continues at Big Hollow
In preparation for new campsites and two new sediment ponds west of the existing RV campground at Big Hollow Recreation Area, crews have been clearing a lot of trees. Big Hollow is known to support populations of the endangered Indiana bat. In the warmer months, these bats roost in trees so it has long been our practice to follow federal recommendations not to cut potential roost trees between April and October. Since the new campsites and ponds are going in a forested area, our crews are working hard to get all the cutting done before the end of March.
New Watershed Coordinator Hired
The Des Moines County Soil and Water Conservation District (SWCD) has hired Frank Boyer as the new watershed coordinator for the Big Hollow Watershed. He starts on March 6. Frank will work with landowners throughout the 4,400 acre watershed, connecting them with programs and applying conservation practices designed to improve the lake's water quality. Big Hollow Lake was added to the state's impaired waters list in 2018 due to high phosphorous and pH levels resulting in significant and regular algae blooms. State and county agencies have worked together since then to establish a federally approved water quality plan which qualifies the watershed for various funding sources. Hiring the watershed coordinator was the next step in the process and we look forward to working with Frank to begin implementing conservation practices upstream of the lake.
Hunter Education Field Day on March 18
With more and more people taking the Hunter Education Class online, Des Moines County Conservation will be offering multiple online field days this year. These will replace the in-person classroom program we used to offer every spring.
The first online field day scheduled for the year will be March 18 at the Big Hollow Shooting Range starting at noon. Students will need to register online and bring the voucher they received upon completion of the online class. All other materials and equipment will be provided. This is a live fire class.
For more information, contact Tanner Grimm at (319) 572-8057.
Foundation Hosting All Things Outdoors Raffle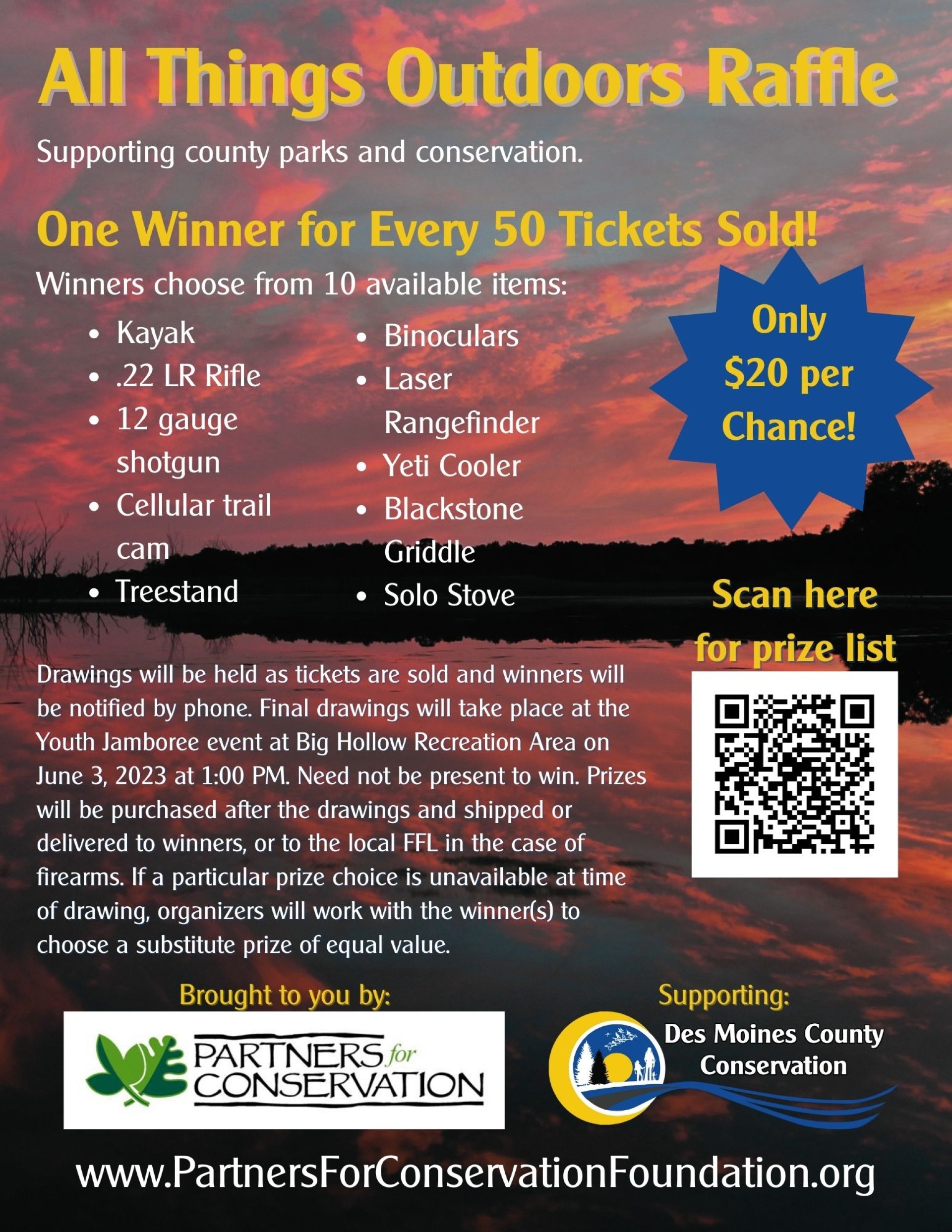 The Partners for Conservation Foundation is hosting the "All Things Outdoors" raffle to raise money for county parks and conservation programs. Tickets are $20 each and a winner will be drawn after every 50 tickets sold. Winners will get their choice of 10 items including a kayak, guns, optics, treestand, Yeti cooler, Blackstone griddle and more. For more information, including the complete prize list, visit the foundation's website.
Tickets are available at Starr's Cave Nature Center and the Main Office. Camp hosts and staff will have tickets as well once campgrounds open (on or around April 1st).
Upcoming events
Be sure to mark your calendars for these great events:
March 16: Hike-a-Park at Starr's Cave Park & Preserve, 3:00 PM
March 23: "Managing Your Farm for Bobwhite Quail" workshop hosted by Pheasants & Quail Forever; Danville Community Center, 6:00 PM
March 25: Invasive Species Removal Day at Starr's Cave, 10:00 AM
March 30: Hike-a-Park at Luckenbill Woods, 3:00 PM
published Friday, March 3, 2023
More Blogs