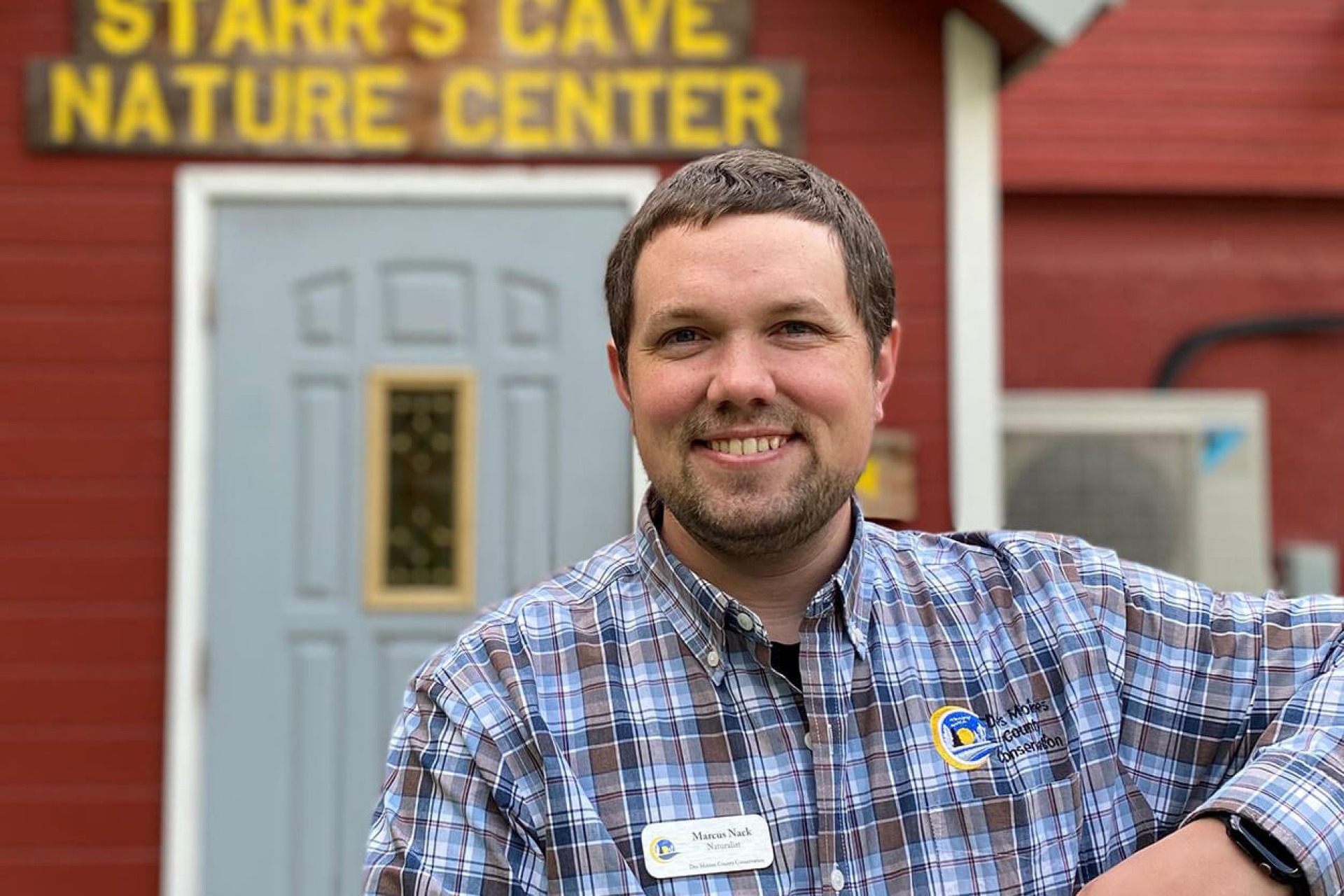 Fall 2022
Celebrate our volunteers, staff accomplishments, and upcoming autumn events!
Celebrating 60 Years of Local Conservation | 1962-2022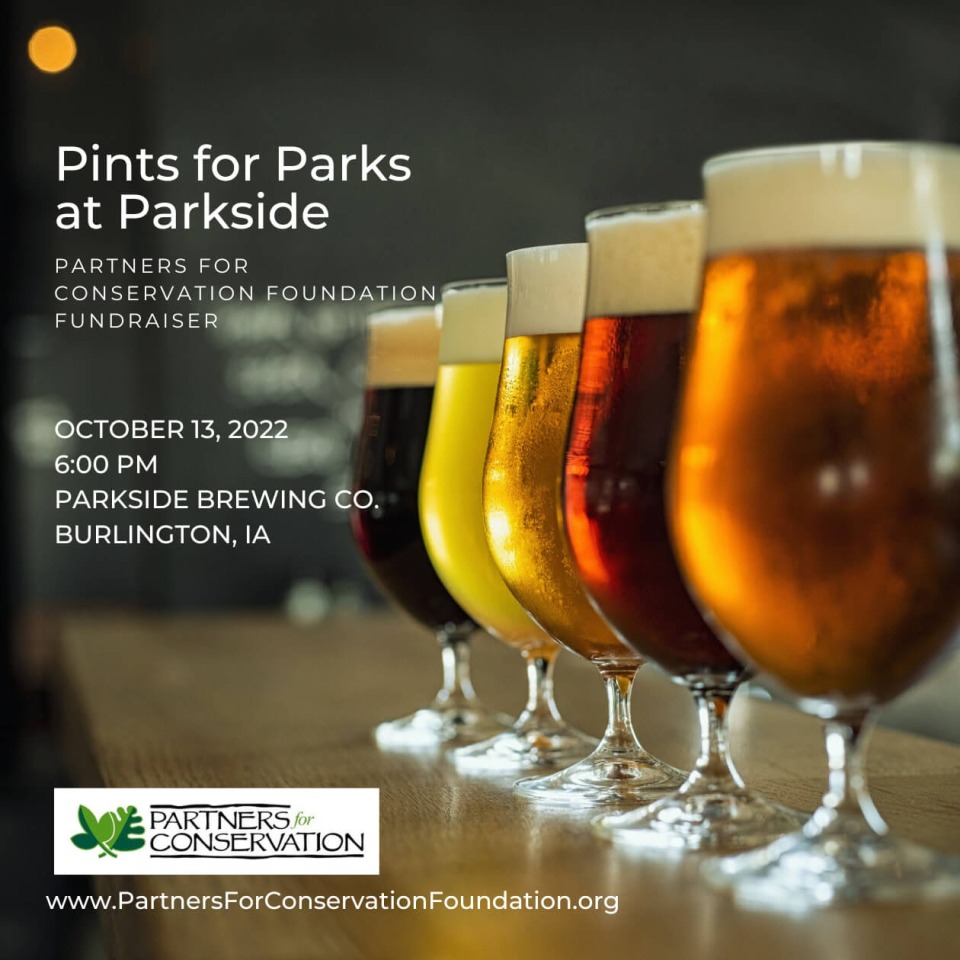 Foundation Hosts Pint Night & Raffle to Support County Parks
Des Moines County Conservation was created through a public referendum in 1962. In honor of the department's 60th anniversary, the Partners for Conservation Foundation, a non-profit charitable foundation that supports parks and conservation programs in the county, is hosting a pint night at Parkside Brewing Co. in Burlington on October 13 at 6:00 p.m.
The foundation is also conducting a raffle featuring 60 prizes including a kayak, an e-bike, a trail bike, two different rifles as well as hunting, fishing, boating, and hiking gear. The raffle also features cabin stays in various parks across Iowa among other prizes focused on outdoor recreation.
For $60, ticket purchasers get one ticket into the Pints for Parks event at Parkside as well as six entries into the "60 for 60" raffle. Tickets are available at local retailers throughout the county.
Prizes and ticketing locations can be found on the foundation's website at www.PartnersforConservationFoundation.org or on Facebook by searching #60for60 or the "Pints for Parks" event. Tickets will also be available at upcoming events including the "Big Holloween" event at Big Hollow on October 8. They can also be purchased at the door at the Pints for Parks event on October 13, though advance ticket purchases are highly encouraged.
Find out more about the Pints for Parks at Parkside event on Facebook.
"Big Holloween" Event Returning to Big Hollow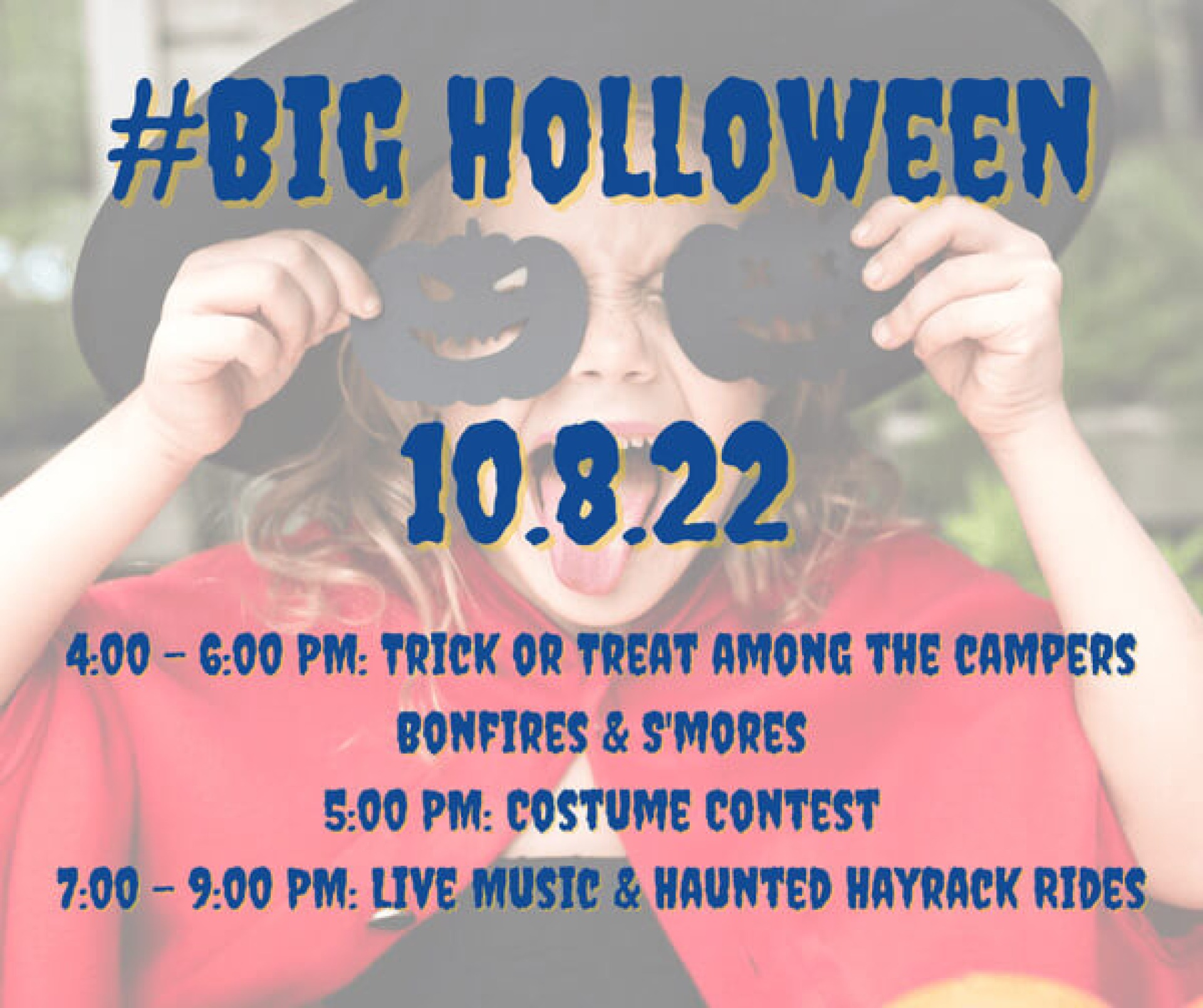 Ghosts, goblins, and more than a few superheroes will take over the campground at Big Hollow Recreation Area near Sperry the evening of October 8 as Des Moines County Conservation hosts its annual "Big Holloween" event in its main park.
The event is divided into two segments. The first, from 4:00 to 6:00 p.m. is free and family-friendly, focused on the youngsters looking to fill their candy bags. This segment is highlighted by trick-or-treating among the RVs staying in the campground, a costume contest at 5:00 p.m., hayrack rides through the campground, and s'more roasting over bonfires.
The second segment, from 7:00 to 9:00 p.m. is for older kids and adults and features haunted hayrack rides through the volunteer-built Timber of Terror as well as live music. The haunted hayrack rides cost $5 per person and will run constantly throughout the two hours.
Food trucks will also be on-site through the entirety of the event for those that work up an appetite.
According to organizers, this event is likely to be the park's biggest event of the year.
"We expect several hundred people, maybe even more, just for the trick-or-treating," said Chris Lee, Executive Director at Des Moines County Conservation. "And the volunteers that put on the haunted forest are going all-out yet again, building an even bigger production than last year."
Those volunteers, led by the park's camp host, Collette Groenewald, were recently recognized as the conservation department's Volunteer Group of the Year for the hundreds of hours of time they put into organizing, assembling, and operating the haunted forest component of the "Big Holloween" event.
"Simply put, this event wouldn't happen without those volunteers," added Lee.
For more information about the event, search #BigHolloween on Facebook.
Cheers to Our Great Volunteers
Every year, we take a little time out of our summer to recognize the volunteers that help us with so many things. We do this at an
annual volunteer recognition dinner which we have at Starr's Cave. During the event, we always give awards out to volunteers that went above and beyond. Here are this year's winners.
Volunteers of the Year: Zach and Denissa Cornick
The 2022 Volunteers of the Year are Zach and Denissa Cornick for their work at building and running a robust youth archery program in our community. Starting out as a local club, they recently started the state's first S3DA program and already have athletes that have secured full-ride scholarships to college to shoot competitive archery.
Volunteer Group of the Year: Big Holloween Committee
The 2022 Volunteer Group of the Year award was given to the "Big Holloween" committee led by camp host Collette Groenewald for their work at creating the Big Holloween Event which has become one of the department's largest events of the year.
2022 Volunteer Group of the Year
Environmental Educator of the Year: Aron Kehoe & the BHS Summer School Program
The 2022 Environmental Educator of the Year is Aron Kehoe and the Burlington High School Summer School program for his work at getting more students connected to the outdoors through various recreation programs throughout the community's park system.
2022 Environmental Educator of the Year
Outstanding Service Award: Lisa Louck, Iowa DNR District Forester
The 2022 Outstanding Service Award goes to Lisa Louck, Iowa DNR District Forester and long-time volunteer with many DMCC events and programs including the annual Outdoor Youth Jamboree. Her service to our department goes way beyond her professional capacity as a forester so we wanted to recognize her for that.
2022 Outstanding Service Award
Annual Report Now Available
Every year, we publish an annual report highlighting our biggest projects, park visitation and program stats, and a full financial report.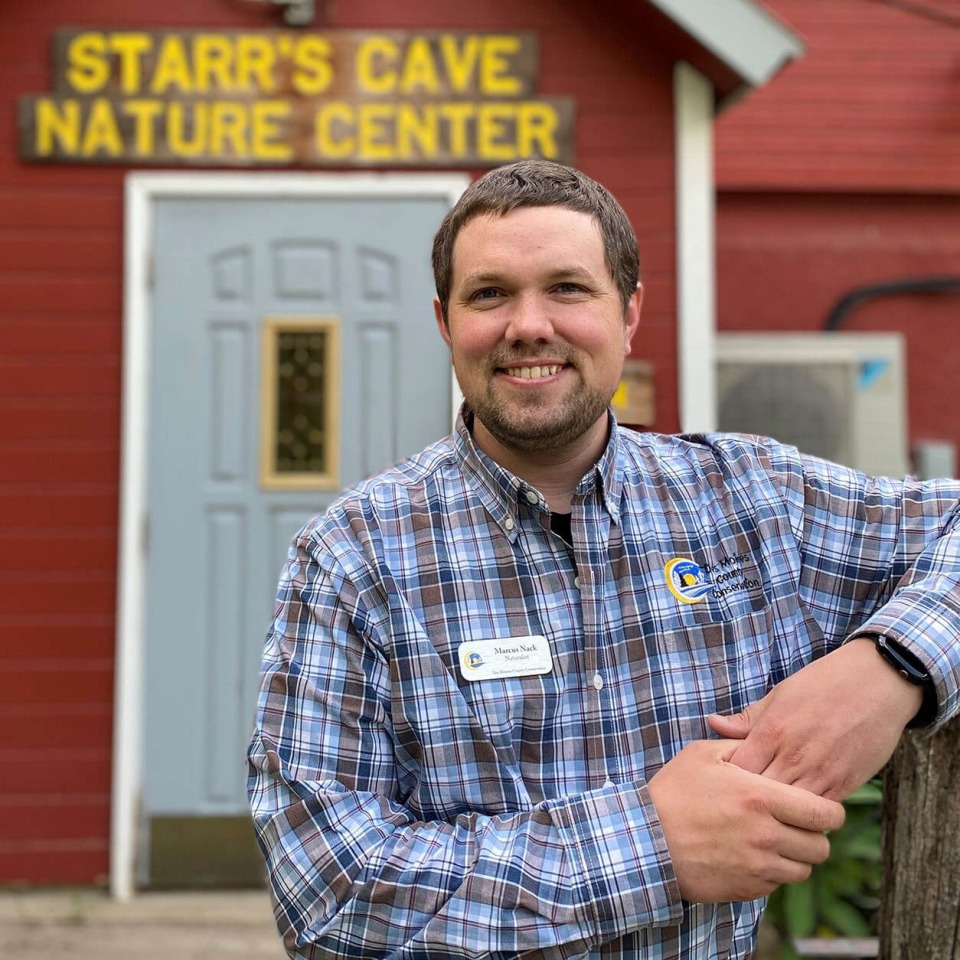 EE Update
Fall has begun! We have kicked off the season by rehiring our ½ time Americorps member for another term of ¼ time. Jacklyn Goodman will not only be starting her next term October first, she will also be hired on as the part time Naturalist. As Jacklyn moves into her new roles, so has Marcus Nack. Marcus has shifted from Naturalist to Environmental Education Manager after Kelly Rundell accepted a position in her home state of Minnesota. His start date in this position was September 19th.
This fall program sign up has changed slightly. Field trips, classroom visits, kit rentals, and general programming can be requested through a google form. After requests have been submitted, responses can be expected within two weeks. Currently, we have accepted and scheduled over 27 programs for this fall.
The school year has been running great! Starr's Cave has been providing classroom programs to the surrounding area classrooms, and leading field trips. Starr's Cave has also continued to run programming at PiECES after-school programming every Tuesday and will be starting elementary school visits every Wednesday and Thursday. In addition, students are getting the opportunity to ride a bus to Starr's Cave for a field trip during regular PiECES times. This bridges the gap between inspiring students towards stewardship and providing quality recreational opportunities.
Beginning October first, Nature Center Hours will be Tuesday-Friday 9:00 a.m. - 4:00 p.m., or as requested. Come on out to the park and enjoy your time as autumn sweeps through Southeastern Iowa. Due to a busy schedule of programs, we encourage you to call before you stop by to make sure someone will be there. As always if you're out here and the sign says "Open" feel free to stop in!
Park Spotlight: Waters Park
In this edition, we're spotlighting a park that we don't even manage… at least not anymore. At the edge of the City of Danville sits Waters Park, an old roadside park previously managed by Des Moines County Conservation but now part of Danville's park system. This year, the city and county signed a management agreement turning over the park to the city. With our focus on our larger, more developed parks and tightening budgets, there were scant resources to manage such a place so it largely sat vacant. But with its proximity to the city, it made sense for Danville to take it over and make a viable park out of it. Since taking it over in the spring of 2022, the city has cleared and rebuilt fences and plans are in place to further improve the site in the future. As of this writing, concrete had already been poured for a shelter house and discussions have been had about further improvements, possibly even including a playground structure.
published Monday, October 3, 2022
More Blogs